Hat Fire
Shasta County

|

Started:

Aug 09, 2018
|

Last Updated:

Thursday, August 16, 2018 1:49 PM
Burning For
259 days
Acres Burned
1,900
No new updates for this fire. 1900 acres have burned, and the fire has been 95% contained. The cause was under investigation Road closures are in effect. See details below.
---
I WANT TO KNOW
Do people near this fire need to evacuate?
Have any road closures been announced?
---
On the scene
Are you near the Hat Fire? Get updates from fire and rescue agencies, post photos, and videos and see up-to-the-minute coverage on Twitter with #HatFire
See more on Twitter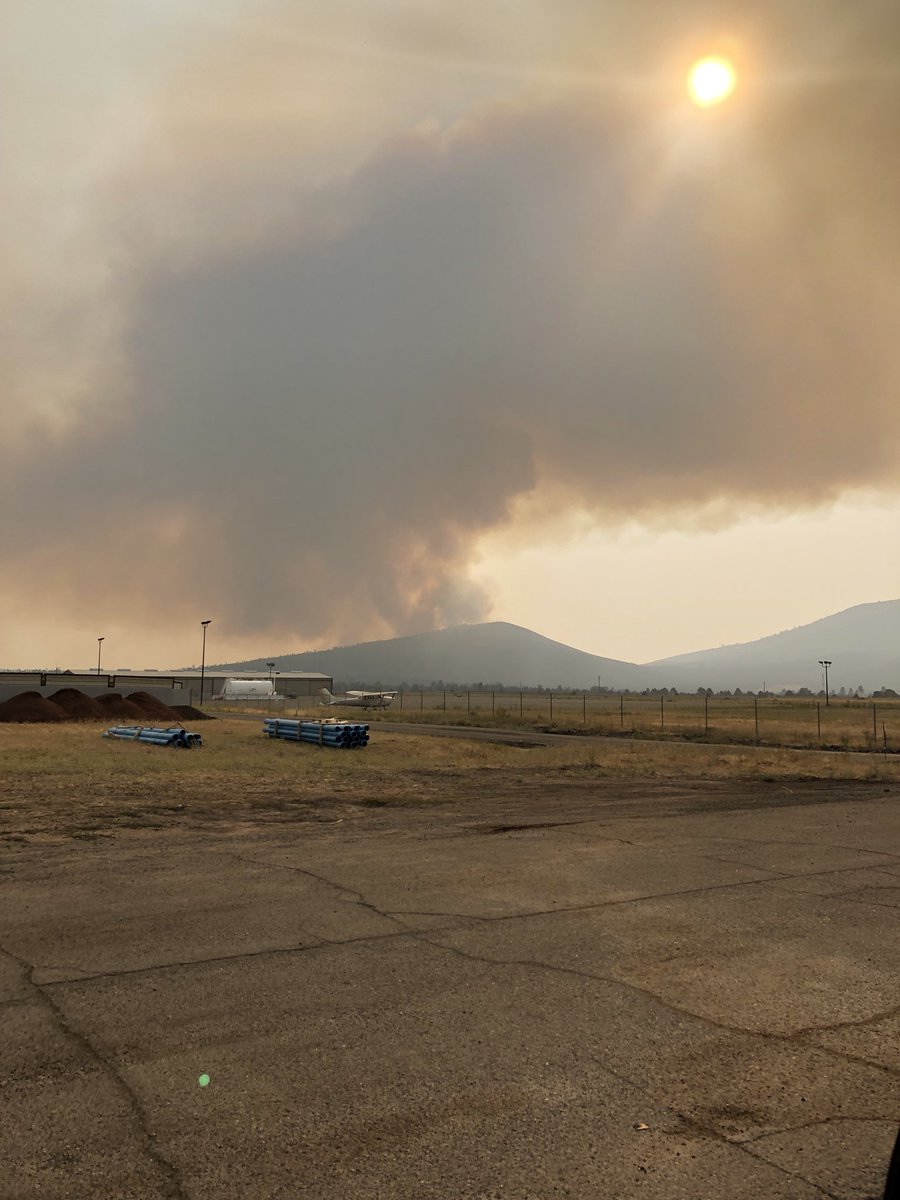 Picture of the #HatFire burning off Highway 299E & Fish Hatchery Rd. in Shasta County @ABC10 @CALFIRESHU @KRCR7
 –
@Madison Wade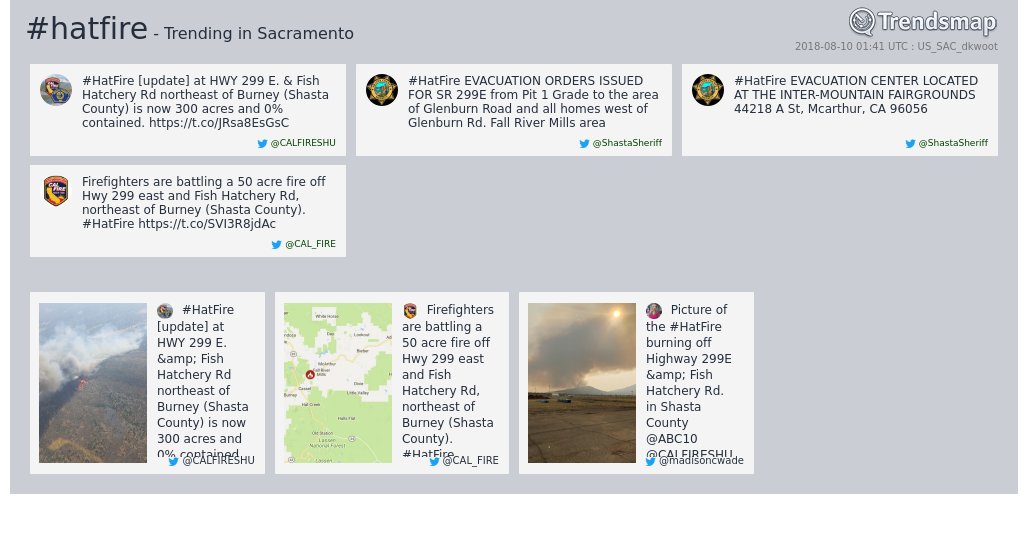 #hatfire is now trending in #Sacramento https://t.co/BIbz8YL5xu
 –
@Trends Sacramento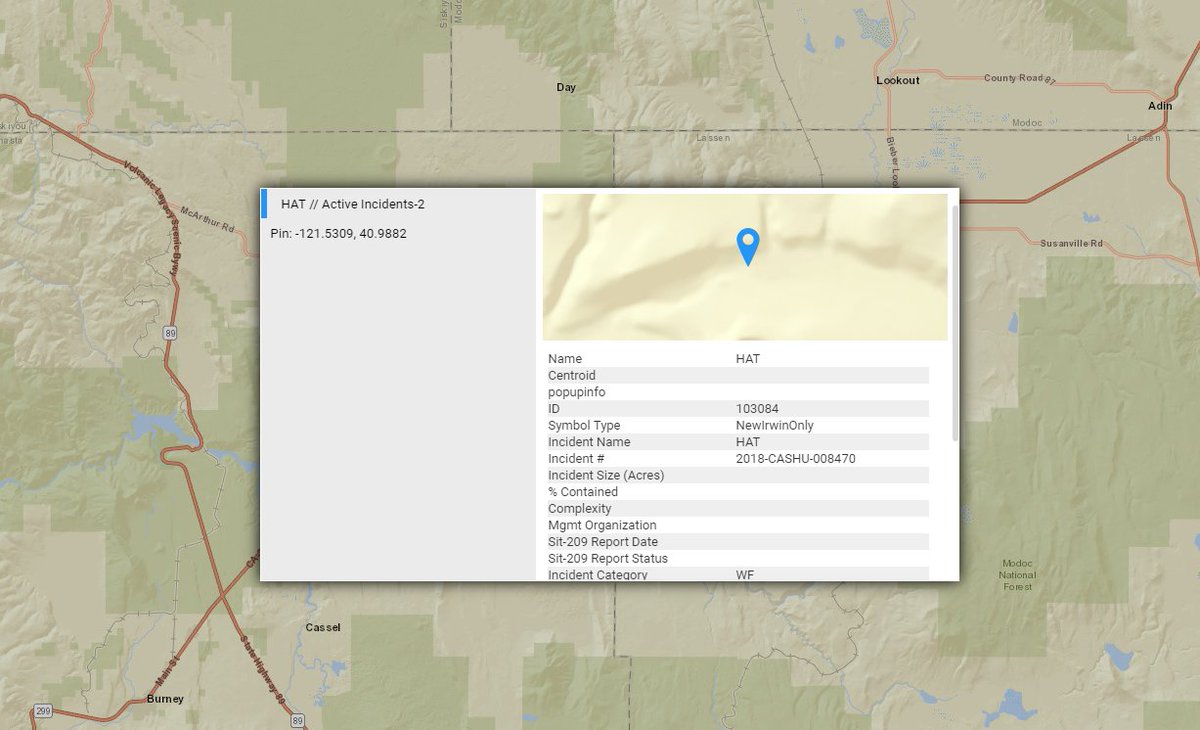 Approximate location of #HatFire on @nwcg map. https://t.co/7voE0o5M4P
 –
@Paul Doherty
#SuperTanker #Tanker944 @GlobalSuperTank en route to Northern California. #HatFire #CaFire #CaliforniaFires
 –
@Chris Baker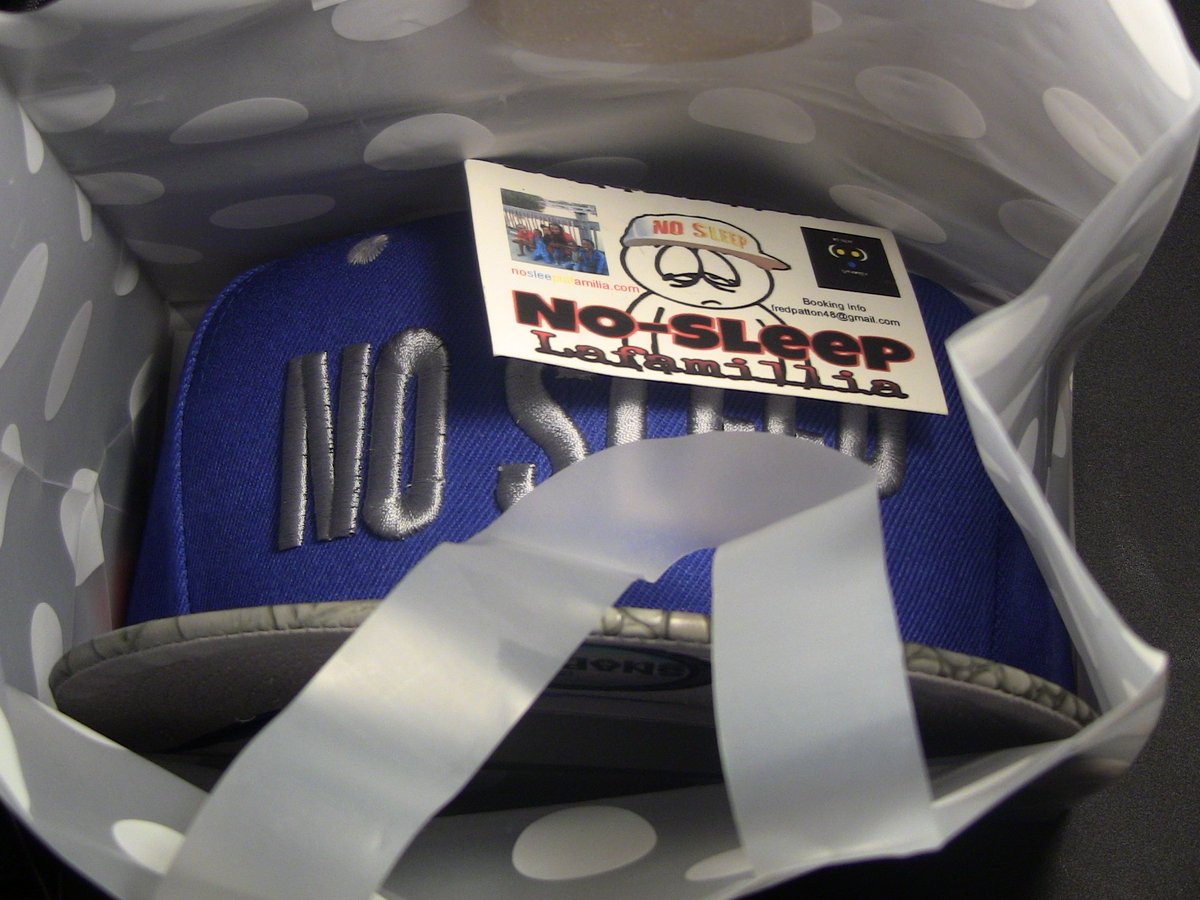 Shop now #fashion #HatFire #platinum #hits
 –
@No Sleep Lafamilia LLC
Additional Details
EVACUATIONS
All Evacuations have been lifted.
ROAD CLOSURES
All road closures have been lifted.
SCHOOL CLOSURES
n/a
CAUSE
Under investigation
INJURIES
n/a
STRUCTURES THREATENED
n/a
STRUCTURES DESTROYED
n/a
CONDITIONS
n/a
DATA SOURCE
ADMINISTRATIVE UNIT
CAL FIRE Shasta-Trinity Unit
COOPERATING AGENCIES
Shasta County Fire Department, Cal OES, Shasta County Sheriff's Office, CHP, Cal Trans, PG & E, Shasta County Road Dept., Shasta County Probation Dept., Fall River Mills Fire Dept., McArthur Volunteer Fire Dept
PHONE NUMBERS
Fire Information
(530) 225-2510