Hirz Fire
Shasta County

|

Started:

Aug 09, 2018
|

Last Updated:

Thursday, August 09, 2018 9:08 AM
Burning For
6 days
Acres Burned
5,689
Current Fire Situation The Hirz Fire grew to approximately 5,689 acres as of this morning, with growth primarily to the north and west. Gilman road continues to hold the fire from spreading south and east. Firefighters are working on contingency lines to the north. Yesterday the Secretary of Agriculture, Sonny Purdue, toured the Redding fires including Hirz. He visited with firefighters, forest staff, fire management team and stakeholders to assess the situation. Structures along Hirz Mountain Lookout Road have been evacuated. Firefighters continue to assess structures in the Gilman Road and Salt Creek area for potential protection. Residents should ensure their homes have 100 foot clearing to create a defensible space and they should be thinking about what they would need to take with them, should an evacuation become necessary. The decision to order evacuations will be made by the Incident Management Team, the Shasta County Sheriff's Office and the Shasta-Trinity Forest Supervisor, as necessary for public safety. This fire is burning in extremely steep and rugged terrain west of Gilman Road near the McCloud arm of Shasta Lake. Please avoid Gilman Road east of Interstate 5, there are firefighters working on and near the roadway. There will be a public meeting tonight, August 14th at 7 p.m. at the Lakehead Lions Club located at 20814 Mammoth Drive, Lakehead, CA. County residents can sign up to receive emergency updates and critical information through www.shascom911.com using the Code Red program. Campgrounds impacted by the Hirz Fire are Hirz Bay, Moore Creek, Pine Point, Ellery Creek, Dekkas Rock and McCloud Bridge. Sites already closed due to the Carr Fire include Lakeshore East Campground, Beehive Campground, Sugarloaf Boat Launch and launching only at Antlers Boat Launch. For more information, please visit https://inciweb.nwcg.gov/incident/6116/.
---
I WANT TO KNOW
Do people near this fire need to evacuate?
Evacuation orders have not been issued.
Have any road closures been announced?
No nearby roads are closed at this time.
What is the air quality like near the fire?
Moderate
Members of sensitive groups may experience health effects. The general public is not likely to be affected.
Note: Air quality varies by location. To check the air quality in your neighborhood,
click here
.
---
On the scene
Are you near the Hirz Fire? Get updates from fire and rescue agencies, post photos, and videos and see up-to-the-minute coverage on Twitter with #HirzFire
See more on Twitter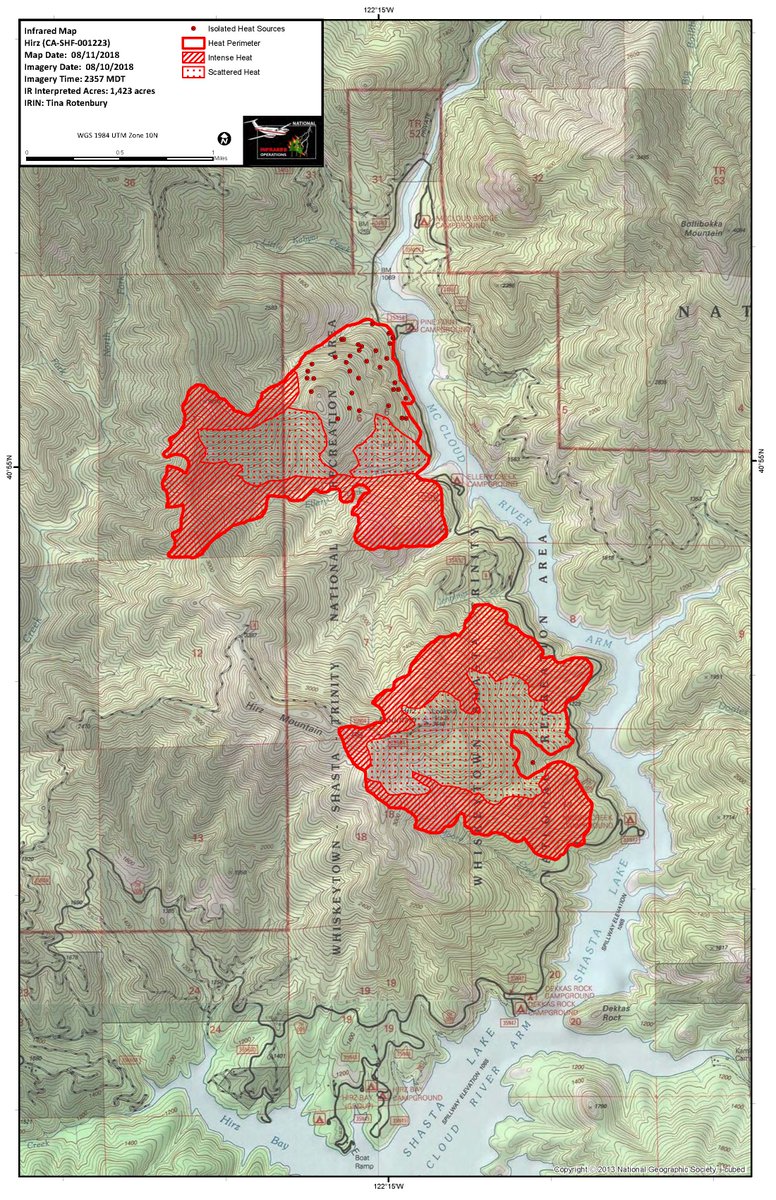 #HirzFire Update for August 10 at 7 p.m. https://t.co/2xN4Q6pOyl
 –
@Shasta-Trinity NF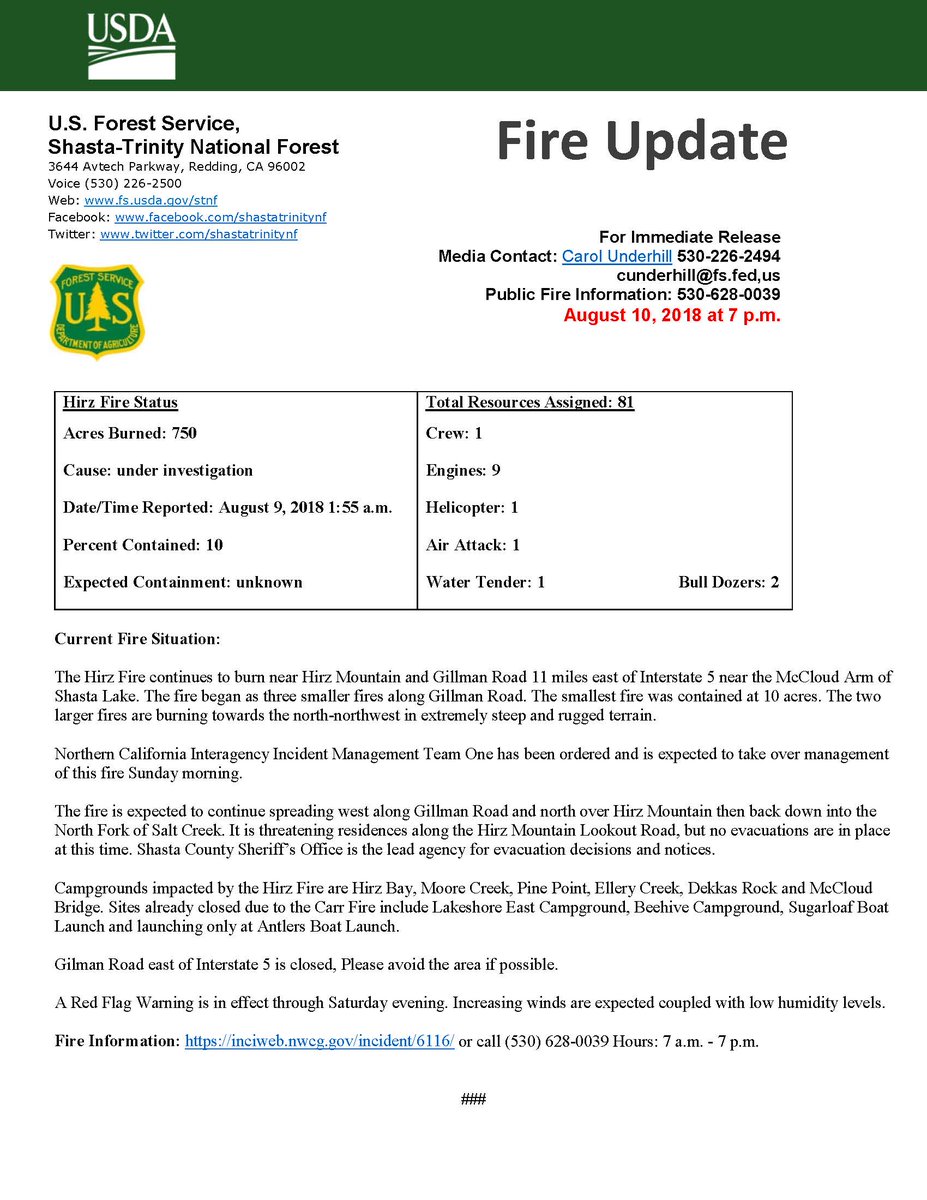 #HirzFire Update for August 10 at 7 p.m. https://t.co/zhMw9XgWFO
 –
@Shasta-Trinity NF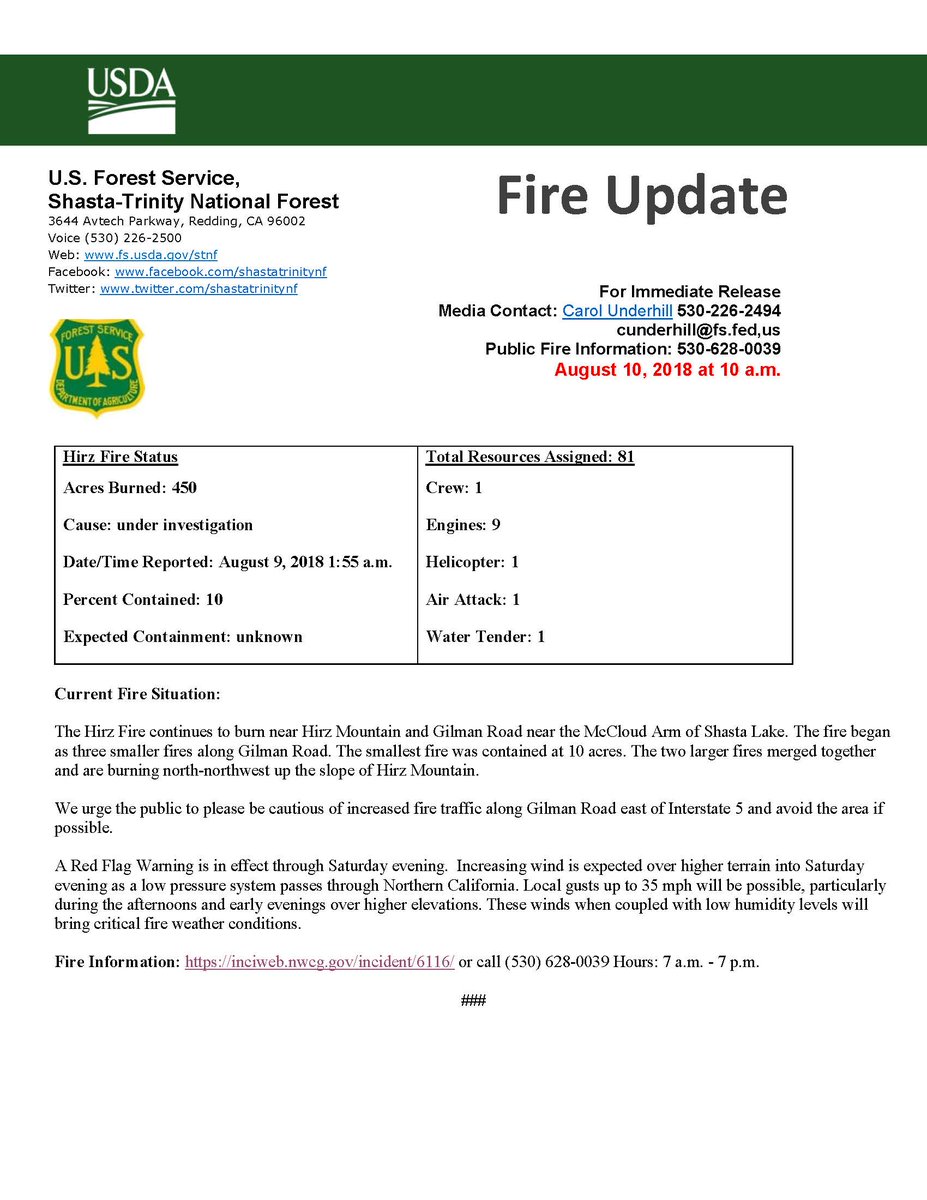 #HirzFire Update for August 10 https://t.co/MdZMChEMH3
 –
@Shasta-Trinity NF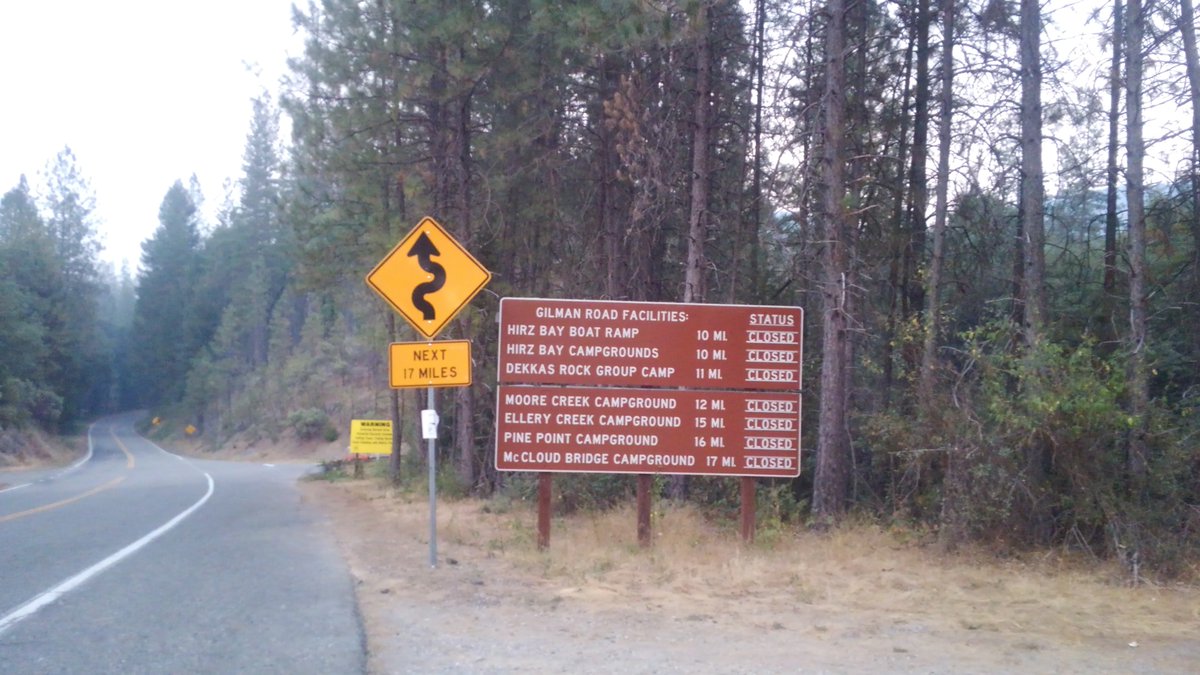 #HirzFire Campground Closures
 –
@Shasta-Trinity NF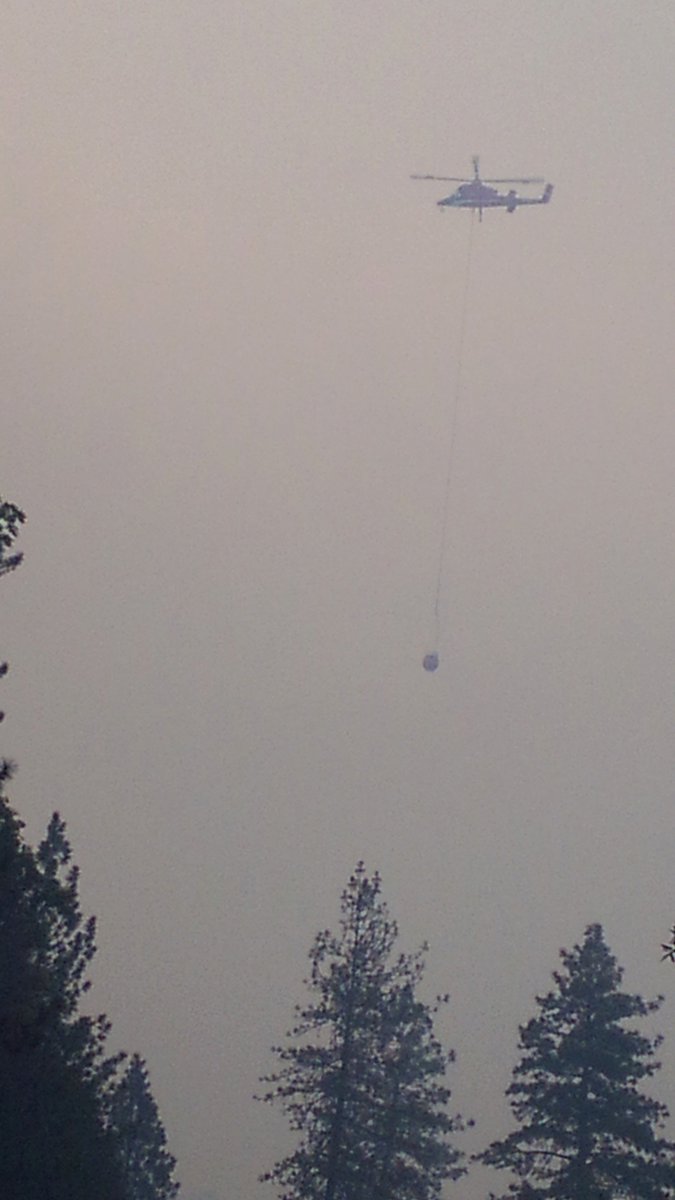 Over Gilman Road last evening, a K-Max helicopter prepares to drop water on the #hirzfire.
 –
@Shasta-Trinity NF
Additional Details
EVACUATIONS
n/a
SCHOOL CLOSURES
n/a
CAUSE
Human
INJURIES
n/a
STRUCTURES THREATENED
n/a
STRUCTURES DESTROYED
n/a
CONDITIONS
n/a
DATA SOURCE
ADMINISTRATIVE UNIT
USFS Shasta - Trinity National Forest
COOPERATING AGENCIES
n/a
PHONE NUMBERS
Fire Information
530-628-0039