Holy Fire
Orange County

|

Started:

Aug 06, 2018
|

Last Updated:

Tuesday, August 14, 2018 7:14 AM
Burning For
8 days
Acres Burned
22,986
Holy Fire UpdateAugust 14, 2018, 0800 Update Acres Burned: 22,986Containment: 59% Fire Started: August 6, 2018Cause: Human Caused Engines: 153Helicopters: 10Fixed Wing: 0Dozers: 10Water Tenders: 11Crews: 31Total Personnel: 1340Trabuco Canyon, Calif., August 14, 2018 – Fire suppression efforts are focused on strengthening the containment line and limiting the spread north beyond Coldwater Canyon. Line is in place along the southern fire perimeter, including Hwy 74. Crews have constructed containment line across Bell Canyon where possible on the southwest perimeter of the fire. Flare ups, hot spots, and smoking vegetation is still an issue within the El Cariso Village area but a containment line is in place. Islands of unburned vegetation within the fire perimeter will continue to be visible from surrounding communities. Smoke and poor air quality will continue to be a factor.The damage assessment team has completed a partial assessment and determined 12 single family residences were destroyed in Orange County and 6 single family residences were destroyed in Riverside County. Structure assessments continue in the affected areas. Limited access, extreme temperatures, steep topography, old-growth vegetation, and limited resources were all factors in the spread of the fire. These conditions contributed to one of the largest non-wind driven fires on the Trabuco Ranger District. The last non-wind driven fire was the Indians Fire in 1966. MANDATORY EVACUATIONS REMAIN FOR: Holy Jim, Trabuco Canyon recreation residence tracts, Blue Jay, Falcon Campgrounds, and Mystic Oaks Community near Long Canyon Road. EVACUATIONS LIFTED:Horsethief, Glen Eden, Riverside, Machado, Shoreline, Sycamore Creek, McVicker, Rice Canyon, El Cariso Village, and Rancho Capistrano.VOLUNTARY EVACUATION:Trilogy CommunityEvacuation center: •Riverside: Temescal Canyon High School, 28755 El Toro Rd Lake Elsinore CA 92532 for residents. FIRE CLOSURES:All trails, recreational areas and campgrounds in the fire area are closed. Areas north of Ortega Hwy and south of Blackstar Canyon Rd/Skyline Drive remain closed. Hot Springs Road will remain closed.Contact: Fire Information (714) 628-7085 Media should use the Holy Fire Joint Information Center Line: (657) 345-4277.| Twitter: @ClevelandNF | Facebook: https://www.facebook.com/clevelandnf/ | | Inciweb: https://inciweb.nwcg.gov/incident/6106/ |
---
I WANT TO KNOW
Do people near this fire need to evacuate?
Evacuation orders have not been issued.
Have any road closures been announced?
What is the air quality like near the fire?
Good
Air quality is acceptable; however, for some pollutants there may be a moderate health concern for a very small number of people who are unusually sensitive to air pollution.
Note: Air quality varies by location. To check the air quality in your neighborhood,
click here
.
---
On the scene
Are you near the Holy Fire? Get updates from fire and rescue agencies, post photos, and videos and see up-to-the-minute coverage on Twitter with #HolyFire
See more on Twitter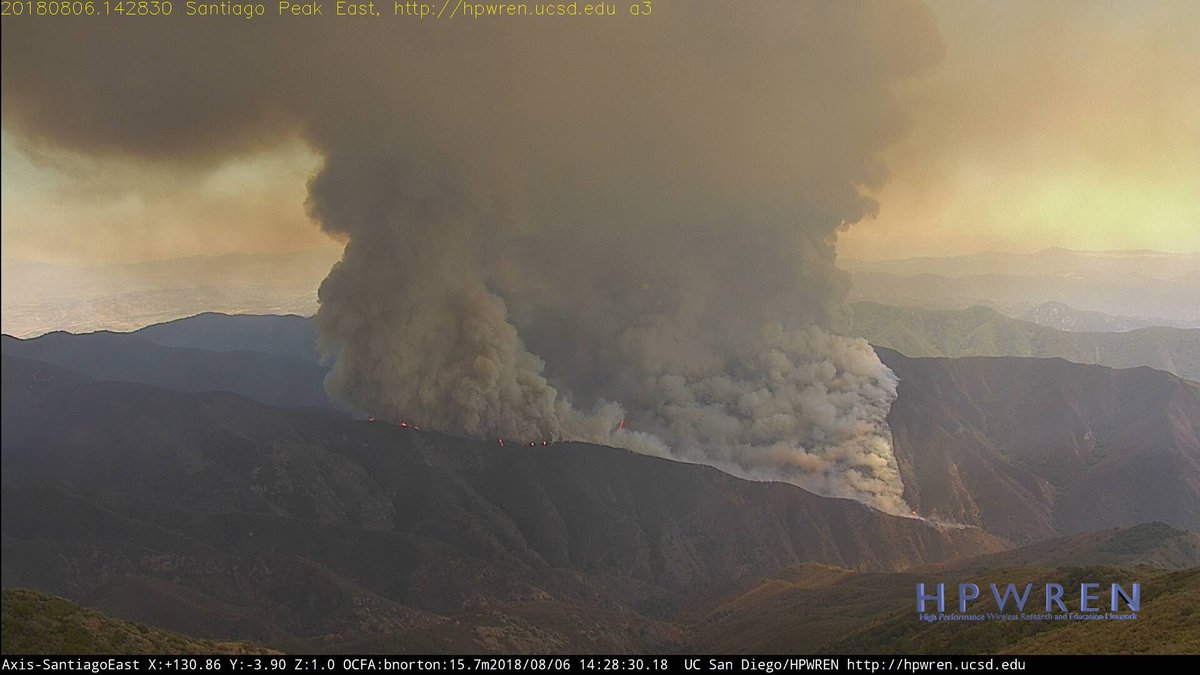 View from Santiago Peak of the #holyfire in Orange County. Image courtesy of HPWREN. #cawx
 –
@NWS San Diego
Live look at the #HolyFire courtesy of of ABC 7, and it is absolutely cranking !
 –
@Sen Bernie Deyo
This is from #holyfire cloud burning in Orange County.
 –
@Crystal Myers-Barber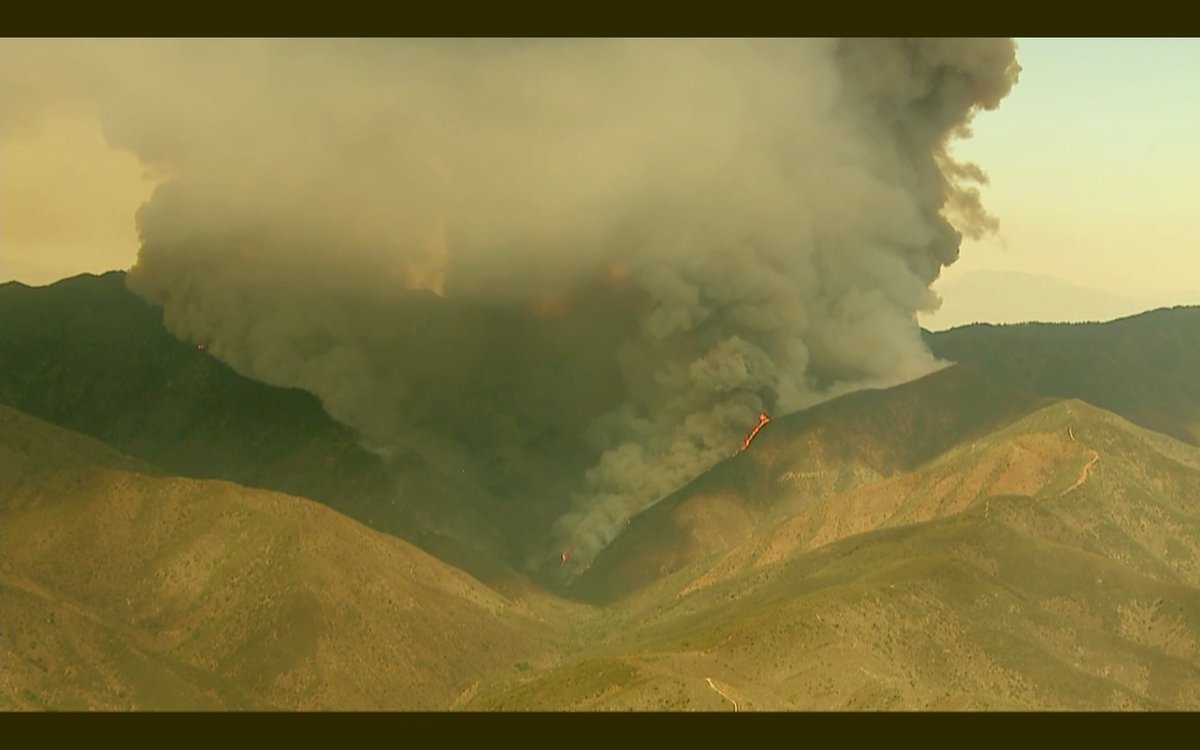 Current view of the #HolyFire from @ABC7 live feed. #HolyJimFire #HolyJim #OCfire
 –
@SoCal Safety 1st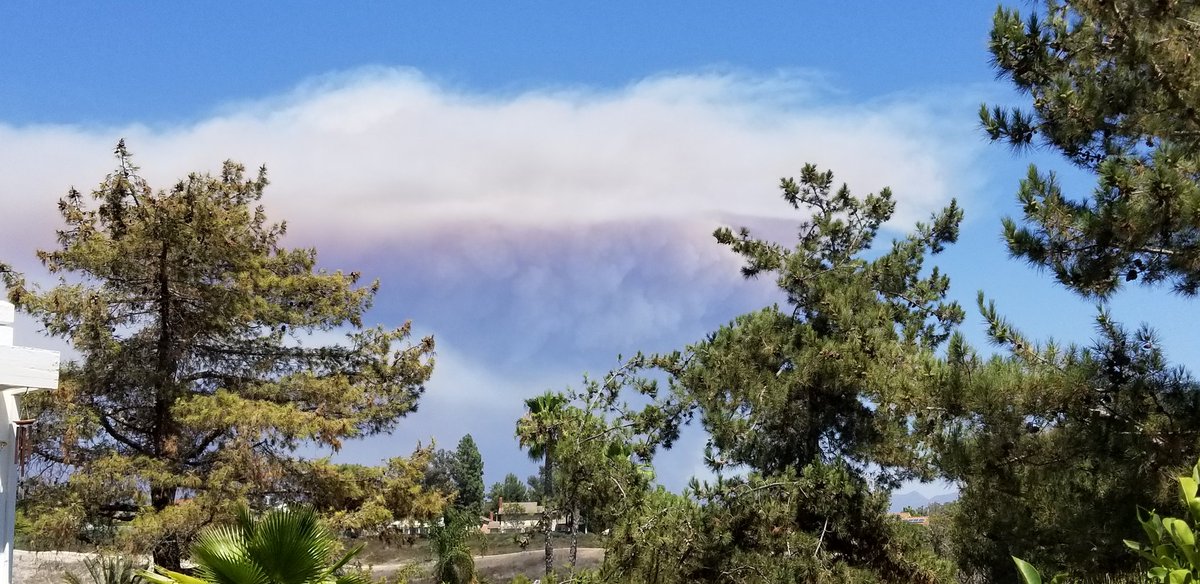 The view from my yard. 🙁 #HolyFire
 –
@Kristen 🌱 Wiggins
Additional Details
CURRENT SITUATION
n/a
EVACUATIONS
n/a
ROAD CLOSURES
Lake Elsinore: Mandatory Evacuations for all homes on the mountainside of Lake St and southwest of Grand Ave to the Ortega Highway. Voluntary evacuations are in effect for the Shoreline community Mandatory evacuations remain in effect for: Holy Jim, Trabuco Canyon Recreation Residence Tracts, Blue Jay and Falcon Campgrounds, McVicker Canyon, Rice Canyon, El Cariso Village, Rancho Capistrano, Horsethief Canyon, Glen Eden Canyon, and Sycamore Creek. Road closures will continue until evacuation orders are lifted. There are two evacuation centers open for residents in both Orange and Riverside Counties. Riverside: Temescal Canyon High School, 28755 El Toro Rd Lake Elsinore CA 92532 for residents. Orange County: San Juan Hills High School located at 29211 Stallion Ridge, San Juan Capistrano. There are hard road closures for the areas under evacuation order. Until these closures are lifted, residents are not permitted back to check on or get small animals.
SCHOOL CLOSURES
n/a
CAUSE
Human
INJURIES
n/a
STRUCTURES THREATENED
The evacuation area covers 7,449 single family homes and numerous commercial structures with estimated evacuees totaling 21,484 people.
STRUCTURES DESTROYED
12
DAMAGE ASSESSMENT
After completing a structure assessment in the Holy Jim community, there are 12 confirmed structures lost during the initial attack phase of the fire.
CONDITIONS
n/a
DATA SOURCE
ADMINISTRATIVE UNIT
Unified Command: US Forest Service, CAL Fire, Riverside County Fire, Orange County sheriff, Riverside County Sheriff and the California Highway Patrol
COOPERATING AGENCIES
n/a
PHONE NUMBERS
Fire Information
Fire Information
714-573-6210
Fire Information
714-628-7085